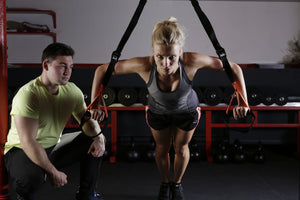 Things to consider at the beginning of your fitness journey
When first starting out your fitness journey, it can be quite scary. If you don't know a single thing about fitness or you might want to consider a personal trainer.
However, how much does personal training cost? it really depends, but in the UK having a personal training can cost anywhere between £35-£50 per session. Although this can be quite costly, it means you won't have to think about a fitness training programme.
To take things further, there are different training types that personal trainers specialise in, and even some that may help you with your nutrition. A good trainer will be first able to understand your needs, and then be able to give you suggestions on how your plans and route to getting there should be.
My advice before diving into this though is to have a fitness consultation with a few trainers that you feel comfortable with first (this is usually free). Once you have an idea of what to expect, you can then take on a trainer for at least 3-6 months you get you on your feet!
Checklist for finding the right personal trainer
- Does the personal trainer understand your fitness goals? (are you trying to lose fat, burn calories, build muscles, or all of those things over a longer period)
- Does the personal trainer understand your time frame and has given you realistic feedback on whether it is achievable? (a good trainer doesn't just say yes this, but actually breaks it down whether something is feasible)
- Can he/she cater to your training requirements (some prefer to train outdoors, some prefer commercial gyms, home gyms, or a private training studio, the location of training is very important as it is the bench mark of consistency)
- Are there any further specific requirements (you may need a trainer who has a qualification in pre/post natal training, or simply a trainer who can speak your mother tongue if you're not from the UK, these things are just as important)
- How much is being charged per session (when you commit to a trainer, it won't just be for 1 or 2 sessions, therefore you want to make sure the cost is within your budget and financially viable)
- Does he/she make you feel comfortable (initial connection is the most important thing, you want to get a feel if the personal trainer genuinely cares about your fitness goals and wellbeing rather than just wanting to take your money)
If you would like someone to guide you through the screening and searching process (as we know it can be quite scary), do reach out to us and our team can be with you on every step of the way. 
---