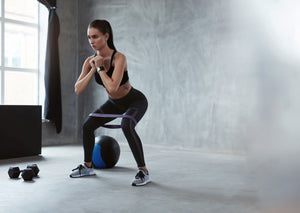 Does Booty Bands really work?
Over the years, this nifty piece of equipment has been getting a lot of attention. 
Let's take a look at this in more detail and break it down for you.
What are booty bands?
Booty bands are essentially a looped band, typically made from either from latex or cotton polyester. The heavy duty tends to provide much more resistance and is seen to be much more durable too! You would then wrap these around your shins or just above your knees to perform various exercises.
Initially these were highly popular amongst women by in the recent years men have been incredibly receptive to these, as they understand the value of this piece of fitness accessory in supporting lower body goals.
Benefits of booty bands?
Warm up muscles – similar to other resistance band type equipment, the tension is gradual rather than consistent throughout movement, making it a great way to fire up the glutes and other lower body muscle parts before training. Once the muscle fibres have woken up, you will then be able to fully engage these muscles during the big compound movements.
Mobile training – easy to carry around, yet provide enough resistance to have a strong core and lower body workout. This makes it a perfect tool to train at home or bring it on the go when travelling. The best way to grow a muscle, is by training it often (without overtraining of course), therefore having a flexible and mobile fitness equipment means more training sessions.
Supporting lower body movements – booty bands have been proven to work, as it helps to support lower body movements, such as the squat, kick backs, or adductor extensions. It forces the right muscles to be engaged during the exercises, thus adding extra resistance to really challenge your muscles and grow. As mentioned earlier as well, it's important the tension is gradual as it targets different muscle fibres at the same time of your weighted movements.
To conclude
All in all, the booty band is an incredible additional to your fitness regime, as encourages to you to train more often as well as challenge and engage the right lower body groups such as your glutes and hamstrings much more effectively.
Also, booty bands are incredibly cheap to get hold of and are very durable so it's a very much low risk and cost but high rewards investment.
Head over to our shop to get a set of resistance bands today!
   Founder of FitnessHaus - our goal is to give you     
   a versatile and affordable training environment
---