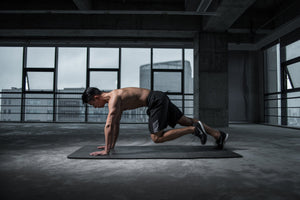 What is the best fitness equipment?
If you're biased fitness fanatic like me, we'd claim that every piece of fitness equipment is the best, as they all have their place to help you achieve your fitness goals. Although, if you're trying to create your own little home gym set up, we can't buy it all! So let's try and grade some of my top picks.
Dumbbells
Pro: Probably the easiest to use and get a good pump. It provides constant tension across the whole movement and a ton of exercises that you can do with them, most of which that are require basic mastery.

Con: The downside to this is that they are heavy, take up space and not to mention pretty expensive for a good set too. Also, if you do decide to go outside to the garden or the park to get some fresh air at the same time, it'd be tricky!

Resistance bands
Pro: A resistance bands set will do everything that a dumbbell can do, but with the added benefit that they are light, mobile and can pack a ton of resistance (when combining tubes together). Also, you can get a pair for less than £20 (if you buy with Fitnesshaus.co.uk)

Con: The only thing I would say about resistance bands is that you really need to work on your mind to muscle engagement to reap the benefits. This means slow, control movement, and ensuring that you move to the full range of motion (right to the very top) and contracting your muscles at all times. Ultimately, these are elastic bands with tension being exponential (heavy at the top), therefore if you bounce with them you will miss out on the best bits that strengthen your muscles.
Pullup bar (with fitness rings)
Pro: Personally these are my favourites and go to piece of home gym fitness equipment. Nice and cheap, and every movement here is a compound movement (hitting multiple muscles at the same time). Whilst you're hitting pull ups or dips, it'll simultaneously set your core on fire!

Con: My concern for any beginners out there, is that these are very advanced movements. You're also limited to variations of pull ups and dips here, as well as a set of ab exercises. Therefore, it won't be the most versatile training tool, especially for legs.



Conclusion
If I had to pick one, it would have to be the resistance bands set. It's an all rounder and definitely able to get you some good gains if you use it right. Anyone who tells you otherwise just doesn't know how to use it properly.

As always you can head over to the FitnessHaus shop to get all of these items. Hope you all stay safe during these unprecedented times, and be sure to follow us on Instagram for more tips and tricks.


Dumbbells - click here
Resistance bands - click here
Pull up bar - click here
Fitness rings - click here
   Founder of FitnessHaus - our goal is to give you     
   a versatile and affordable training environment
---